State Missions Offering
"Two are better than one because they have a good reward for their efforts." Ecclesiastes 4:9
2023 has been a tremendous year of ministry because of your giving!
You helped ministry couples going through difficult challenge.
You helped fund our Disaster Relief efforts by funding ministry and leadership through Ben and Kayla Seamans. This year our teams have been called out in Minnesota, Wisconsin, Kentucky, Tennessee, and Missouri.
You provided stipends for ministry interns throughout the two states.
You provided planning resources for Empower, Kingdom Growth, Hispanic ministries and individual church teams.
You've funded this fall's Called Out Youth Conference.
You've made it possible for this year's SEA mission trip to Thailand.
You've helped fund Next Gen Leadership development among our MWBC children, youth, and young adults (training, missions scholarships, leadership opportunities).
Give Online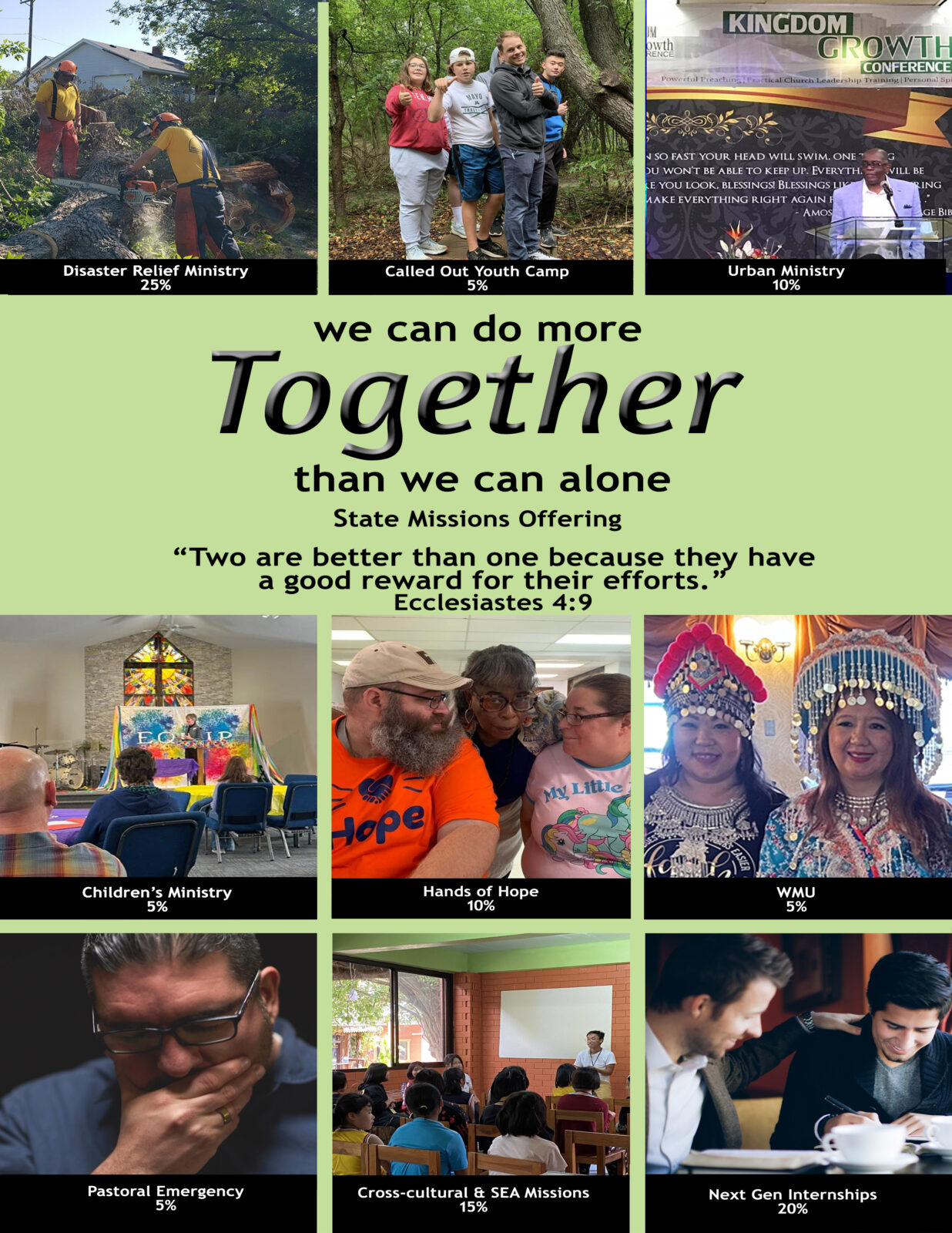 ---
Mission Ministries
25% Disaster Relief
20% Next Gen Internships
15% Cross-cultural Missions
10% Urban Ministry
10% Hands of Hope
5% Children's Ministry
5% Called Out Youth Camp
5% WMU
5% Pastoral Emergencies
September is the month of prayer for state missions. Please follow us on Facebook to receive prayer requests and updates. Click here to access our prayer page: MWBC Pray.
NOTE: If you need additional promotional materials and/or envelopes for the State Missions Offering, please call our office at 507-282-3636 or email us at contact@mwbc.org.
You may also download the materials below (Right-click, "Save as…").
---